Bootnews - Bootstrap 5 News Magazine Template
Bootnews is a News Magazine & blog Bootstrap 5 Template. Create a great news magazine & blog website with bootnews template. This theme is perfect for magazine and excellent for a blogging.
Bootstrap 5 news magazine template
If you want to make news magazine site with bootstrap, Bootnews is perfect for you. This theme is fast loading, simple, have many features and easy to development.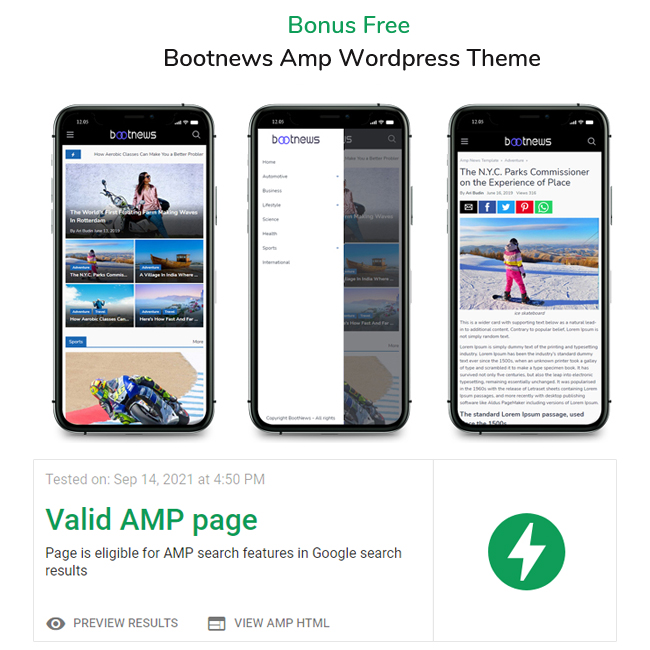 Bonus Free Bootnews Amp Wordpress Theme
Demo https://demo.bootstrap.news/default/amp/
How to Install Amp theme https://bootstrap.news/how-to-install-bootnews-amp-wordpress/
Buy one get 3 version
Available in three version, Html Bootstrap 5 theme, Html Bootstrap 4 theme and WordPress theme Bootstrap 5. If you developer or programmer you can use html version. But if you want to use ready theme, you can use WordPress version.
Don't worry just purchase one theme, you will get three version.
Easiest and fastest way to build your news magazine website with Bootnews and Bootstrap the most popular framework in the world.
highlighted features:
Mobile Responsive
Based on latest Bootstrap 5 and 4 ( available in two version )
Wordpress latest version supported
Fully Integrated Gulp, Browsersync and SASS
Dummy Images ( demo images are included )
10 Header Layouts
6 Footer Layouts
7 example post page
7 post formats
15 Block title
20 Block news
RTL (arabic) Supported (in wordpress)
W3C HTML validated
Full width, boxed and framed layout
Background video
Suggestion post
Smooth scroll
Flickity carousel slider
Big grid cover
Big grid slider
Mega menu
Lazyload Images
Thumbnail Ratio ( background loading )
Mobile Sidebar Menu
Sticky Block/ Sidebar Sticky
Fixed Nav Scroll Up
News gallery
Customize Live Demo tools
Dropdown and Hover
Footer Background
Slider Ticker (breaking news)
Advertisement area
Responsive Google Maps
Bootstrap Icons
Social Network Button
Google Fonts
Manifest Json
One click demo install (in wordpress)
And other features, You can see more features in demo pages
Languages Supported:
English ( default )
Arabic (RTL Supported)
Indonesian
Hindi (India)
Turkish ( Turkey )

Portuguese (Brazil)

Vietnamese

Thai (Thailand )

Nepali

Filipino

Russian

Spanish

French

Italy

Romanian

If you need more languages or want to fix wrong translation, please contact us

Documentation
Looking to quickly add Bootnews components to your project?
Please read our documentation and follow instruction step by step. All element is well documented with live examples.
We're using official Bootstrap classes and elements whenever possible so integration with your project will be as smooth as possible.
If you're familiar with Bootstrap, you'll definitely love this theme!
You will be able to change the theme colors and elements value using Sass variables.
Workflow
Tools
Speed up your development process with modern tools. Bootnews included npm scripts to automate your time-consuming tasks in your development workflow with SASS, Gulp toolkit and BrowserSync live browser reload.
Free updates and support
After purchasing a Bootnews Template , you get the right for a lifetime entitlement to download updates for FREE!
Need help?
For any questions or concerns, reach us out at support@bootstrap.news
• Free lifetime updates: You will get a lifetime free updates. This means you will never pay for any bug-fixes and compatibility upgrades for your theme, ever.
• Technical support: As always, our Customer Support team is available 24/7 to answer any questions you might have.
• Have idea ? : If you have idea for next theme update, you can send suggestion to support@bootstrap.news
Changelog
8 October 2021
Update bootstrap@5.1.2




Update Vanilla-lazyload@17.5.0


17 September 2021
Add Bonus ( Bootnews Amp Wordpress Theme )

Supported Bootstrap 5.1.1

add rounded to button, badge and form

Change theme.scss and variables.scss

Fixed bugs dropdown header style 6




Fixed margin bottom post style 17

Fixed wrapper overflow x hidden




Add bonus News 

Amp Theme html version (tailwind workflow)





06 August 2021 V2.1.0
Supported Bootstrap 5.1.0


02 July 2021 V2.0.5
Hide Showbacktop logo in (lg) screen



Fix bugs mobile sticky in header style 3, 4, 5, 7, 8, 9 and 10




Fix bugs overflow in horizontal gallery

Change Twitter and Vimeo color

Add News ticker marque version

Update Bootstrap 5.0.2 update

Update Update vanilla-lazyload 17.4.0 update





12 June 2021 V2.0.4
Mobile sticky navbar header style 1, 4 and 6 (update)
Fixed bugs in horizontal gallery style (update)
20 May 2021 V2.0.3
Bootstrap 5 Update to v5.0.1 (update)
Html and wordpress version support Bootstrap 5.0.1 (update)


7 May 2021 V2.0.2
Bootstrap 5 Update to v5.0.0 (update)
Html and wordpress version support Bootstrap 5.0.0 (update)


26 March 2021 V2.0.1
New features in v2.0.1
Bootstrap 5 Update to v3 beta (update)




Gulpfile update with new workflow (update)




Package.json update with new tools (update)




Replace Gulp Uglify with Gulp Terser (replace)




Add gulp updateall for easy update all plugins and production files (new)




Wordpress version also update to v 2.0.1


28 February 2021 V2.0.0
New features in v2.0.0
Core web vital (by Google) Optimized 

new

Optimized Loading Speed 

new

Bootstrap 5 Latest version 

new

No jquery depedency 

new

Pure Svg icons 

new

Add Flickity slider (Premium plugins) 

new

Add RTLCSS (npm tools) for auto generate rtl css 

new

Update Gulpfile build system 

new

Generate Minify images (for fast loading) 

new

Update SCSS files 

new

Supported Progressive Web App (PWA Manifest json) 

new

Update html components 

new


– Replaced Plugins
in version 2.0.0
Jquery replaced with Vanilla Javascript

Fontawesome replaced with Svg Icons

Owl Carousel replaced with Flickity Slider (premium plugin)

Sticky-kit replaced with Hc-Sticky

Ajax Tabs replaced with News Tabs

material-scrolltop replaced with es6-scroll-to


– Components Updated
in version 2.0.0
All fontawesome icons update to svg icons

News ticker slider updated

Big grid slider updated

News Tabs updated

Social Icons updated

News Slider updated

Review Post updated

All Header updated

Blockquote updated

Tooltips updated

Weather updated

Mobile menu updated

Js Theme updated

Google fonts update from 2 to 1 font (for fast loading)

Documentation files updated


– Dropped
in version 2.0.0
Jquery dropped

Fontawesome dropped

Js customizer dropped

Owl slider dropped

Sticky-kit dropped

Ajax tabs dropped


Tags: Bootstrap themes, Premium bootstrap template, bootstrap news